Founder & Director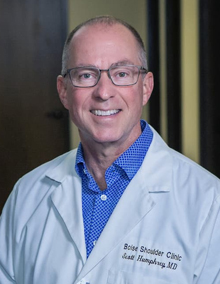 Carl "Scott" Humphrey, MD, is a fellowship-trained shoulder specialist and board certified orthopedic surgeon. In addition to providing non-operative treatments, he routinely performs minimally-invasive rotator cuff repair surgery, shoulder instability repairs, and shoulder replacement surgery. Dr. Humphrey is Idaho's first doctor to be admitted to the prestigious American Shoulder and Elbow Surgeons (ASES), and is a fellowship director who trains other surgeons who wish to specialize in shoulder surgery. He is credited as the inventor on 10 U.S. medical-device patents. Dr. Humphrey has authored multiple scientific articles and textbook chapters pertaining to shoulder surgery. He founded the Humphrey Shoulder Clinic (formerly Boise Shoulder Clinic) in 2006.
A graduate of the University of Oregon, he attended the University Of Utah School Of Medicine in Salt Lake City, UT. Dr. Humphrey completed orthopedic surgery residency at the combined program of the University of Nebraska Medical Center/Creighton University. He completed a fellowship (an additional year of surgical training) to subspecialize in surgery of the shoulder and upper extremity with Tom R. Norris, MD, and H. Relton McCarroll, MD at the California Pacific Medical Center in San Francisco, CA.

You may view Dr. Humphrey's resume here…

Procedures that Dr. Humphrey commonly performs include:
Total shoulder replacement
Reverse shoulder replacement
Shoulder arthroscopy
Rotator cuff repair
Shoulder instability repair
Surgical repair of clavicle, shoulder, and arm fractures
Dr. Humphrey grew up in Idaho. He enjoys white-water rafting, fly fishing, and skiing.
Why see a shoulder specialist?
We live in a world of increasing specialization. As more and more new information is discovered in any particular field it becomes harder and harder for one to maintain a level of expertise without specializing.
The field of orthopedic surgery is no exception. Though orthopedic surgery is itself a specialty field, many orthopedists choose to complete additional training to subspecialize after their general training. Orthopedic subspecialty fields include musculoskeletal trauma, sports medicine, hand, spine, foot and ankle, and shoulder and elbow. Each of these subspecialty groups produces its own expanding body of knowledge, making it difficult if not impossible for an orthopedist to stay current in more than one field.
In addition, specialization has been shown to be beneficial because there is value in repetition for surgeons who perform a particular procedure. Practice is the repetition of an action to improve its quality. The value of practice is recognized in sports, music, and surgery.
According to several researchers, the number of times a surgical procedure is performed may have a bearing on how well it is done. In an article titled "Association between hospital and surgeon procedure volume and outcomes of total hip replacement in the United States Medicare population," Katz et al provides data supporting the concept that specialists have better outcomes. Specifically, they found that surgeons who performed over 50 hip replacements per year had half the complication rate of those who performed 10 or fewer of these procedures. Other researchers at the University of Washington report that 75% of shoulder replacement surgeries are performed by a surgeon who does only one or two of these procedures per year; they conclude that patients may be better served by having shoulder surgery with a surgeon who sees a large volume of shoulder surgery cases.
Another researcher at the Columbia-Presbyterian Medical Center in New York has observed that a series of patients undergoing hip joint replacement who are managed by a single experienced surgeon have better outcomes with respect to rates of mechanical failure and infection than those managed by multiple surgeons with various degrees of experience.
It is likely that a similar effect may relate to shoulder surgery.