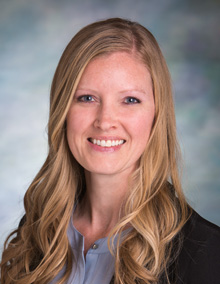 Christi E. Franks, RN, MSN, FNP-BC, began working with Dr. Humphrey in Fall of 2021. She enjoys orthopaedics and is skilled at treating and diagnosing a variety of shoulder conditions. She is a board-certified Family Nurse Practitioner though the prestigious American Nurses Credentialing Center (ANCC).
She received her Master's degree from Frontier Nursing University, a top tier graduate nursing program, with high honors. Her background includes women's health, family medicine, and oncology. She has worked for Intermountain Healthcare and Huntsman Cancer Center in Southern Utah and has also been a respected family healthcare provider in the Treasure Valley for the last six years.
Christi grew up in Southern Utah and relocated to the Treasure Valley in 2015. She enjoys spending time with her family, camping, gardening, and biking.
Christi routinely performs shoulder examinations, x-rays, corticosteroid injections, Platelet Rich Plasma (PRP) injections, and assists Dr. Humphrey with multiple procedures.